On February 3rd, the Center for Public & Global Affairs welcomed Chicago Public Library Commissioner Brian Bannon to Niagara Foundation. While the presentation was called, "The State of Chicago Literacy" much of Bannon's content related to the recent revitalization of the Chicago Public Library system. Commissioner Bannon was appointed in 2012 by Mayor Rahm Emanuel, and now oversees the 2nd largest library system in the United States. With 80 branches and, at least, one in every Chicago neighborhood, the Chicago Public Libraries have over a million annual patrons.
The growth and development of brick and mortar libraries in Chicago seem boundless, and the mission of the CPL has adapted to this growth. According to Bannon, ""When we look at the value proposition of a public library in an urban setting, we first think of what the mission is of a public library. Putting books into the hands of people is a component, it really is about connecting people in a community, creating a stronger, more democratic society."
Over the last decade, the mission of the CPL has developed into a service design of three distinct components. The first is to provide a space in a modern urban setting for learning and to provide access to information. The second is to promote economic growth by providing job training using the latest technology and progressing innovation in the major sectors, while supporting and developing businesses. The third is to create a living space, where individuals with diverse ideas, backgrounds and perspectives come together to create a more connected community.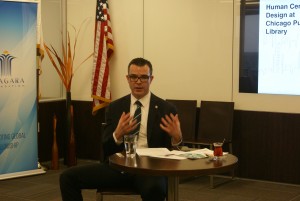 The YOUmedia center at Harold Washington Library and 11 other libraries is one manifestation of the CPL's mission. This innovative space, which is accessible only to teenagers, is a digital learning playground. At YOUmedia, teens can access the tools and resources they need to complete creative projects in various fields such as photography, graphic design, 2D/3D printing, design, and digital recording within a community space with other teens from diverse backgrounds. Within this space, teens have access to the latest technology, they can gain marketable skills, and access a wealth of information on a variety of subjects within the self-directed environment of YOUmedia.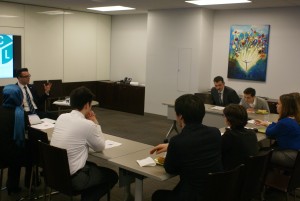 Chicago needs the developmental infrastructure of institutions like the Chicago Public Library to stay relevant, according to Bannon, "How we can position ourselves to be a leader in global and information market? As a public library, that is one area we have to think about. As we look at the goals of the city, how do we position ourselves to support the city's goal of being a global leader? By getting a trained workforce, creating an education pipeline, etc. On the other hand the importance of connecting people to information and ideas, creating a safer and more culturally relevant city, a safer city. A connected community is going to be a safer community, a more educated community. What makes a city strong is diverse ideas and diverse perspectives."
Niagara Foundation would like to extend our warmest thanks to Commissioner Bannon for contributing to the ongoing dialogue at the Center for Global Affairs.
By Julia Peaslee, Communications Intern
February 4, 2016