EVENT HIGHLIGHTS
Niagara Foundation publicly recognizes outstanding achievements of those recipients who have distinguished themselves in their profession, time, energy, expertise and service to humanity. The awards are based on a variety of factors, including community service, education, community educational involvement, professional and community honors, business and professional leadership, media and educational honors.
Date
Thursday
October 24, 2013
6:30 – 9:00 pm
Venue
Embassy Suites Southfield Detroit
28100 Franklin Rd, Southfield, MI 48034
Woodward Ballroom
Niagara Education Award: College of Education, Michigan state University

Received by Dr. Donald Heller, Dean
Donald E. Heller is Dean of the College of Education at Michigan State University and Professor of Higher, Adult, and Lifelong Education. Prior to his appointment in January 2012, he was director of the Center for the Study of Higher Education and professor of education and senior scientist at The Pennsylvania State University. He also held a faculty appointment at the University of Michigan. His teaching and research is in the areas of educational economics, public policy, and finance, with a primary focus on issues of college access and choice for low-income and minority students. He has consulted on higher education policy issues with university systems and policymaking organizations in California, Colorado, Kansas, Massachusetts, Michigan, New Hampshire, Tennessee, Washington, Washington DC, and West Virginia, and has testified in front of Congressional committees, state legislatures, and in federal court cases as an expert witness. Before his academic career, he spent a decade as an information technology manager at the Massachusetts Institute of Technology.
Dr. Heller's research has been published in scholarly journals including the Journal of Higher Education, Review of Higher Education, Educational Policy, and The Journal of Student Financial Aid. He is editor of the books Student Financing of Higher Education: A Comparative Perspective (with C. Callender, Routledge, 2013), The States and Public Higher Education Policy: Affordability, Access, and Accountability (Johns Hopkins University Press, second edition, 2011). Generational Shockwaves and the Implications for Higher Education (with M. d'Ambrosio, Edward Elgar, 2009), State Postsecondary Education Research: New Methods to Inform Policy and Practice (with K. Shaw, Stylus Publishing, 2007), and Condition of Access: Higher Education for Lower Income Students (ACE/Praeger, 2002).
Dr. Heller received the 2002 Promising Scholar/Early Career Achievement Award from the Association for the Study of Higher Education, and the 2001 Robert P. Huff Golden Quill Award from the National Association of Student Financial Aid Administrators, for his contributions to the literature on student financial aid.
Niagara Peace Award: InterFaith Leadership Council of Metropolitan Detroit

Received by Robert A. Brutell, Chair of the Board of Directors
Robert A. Bruttell was born in Detroit, attended Sacred Heart Seminary high school and college during the tumultuous years of the 1960s, the Civil Rights Movement, the War in Vietnam, civil unrest in Detroit and the assassination/murders of national leaders all of which helped mold his life as well as his view of life.
He is a Licensed Builder with more than 40 years in the construction industry and is president of Bruttell Roofing, Inc. In addition, Mr. Bruttell is an adjunct professor at the University of Detroit Mercy where he teaches history, religious studies and social ethics.
Honored
by the Council of Islamic Organizations of Michigan with their Interfaith Partner Public Service Award 2010.
Education: Awarded BSBA degree from Lawrence Technological University.
Awarded Master of Arts in Religious Studies by the University of Detroit Mercy
Affiliations:
In addition to Chairman and President of the InterFaith Leadership Council of Metropolitan Detroit, he is a member of the Interfaith Scholars Colloquy; serves on the Board of Directors of the Michigan Roundtable for Diversity and Inclusion as well as the Ecumenical Theological Seminary; Member of the American Academy of Religion and the National Roofing Contractors Assn.
Mr. Bruttell is married to Judy Bruttell. Together they raised three children who are now wonderful adults. When Bob and Judy are not traveling together you will find him enjoying long distance bicycle touring.
Niagara Media Award: Rochelle Riley

Columnist, Detroit Free Press
Rochelle Riley's commentary on social, political and cultural issues appears in the Detroit Free Press two to four times each week. She makes frequent television and radio appearances on National Public Radio, WDET radio and local TV station WDIV-TV 7's "Flashpoint." She is a public speaker who addresses college students, women's groups and business and family organizations across the country. Rochelle writes passionately about public education, pop culture and local government. But no subject is off limits. At the Free Press, she has waged an 11-year campaign to improve adult literacy, recruiting thousands of volunteers and tens of thousands of dollars to the cause. Rochelle's career has taken her around the country with stints at The Dallas Morning News, The Washington Post and the Courier-Journal in Louisville, Ky., where her 1996 debut column, which called for a museum honoring Louisville native Muhammad Ali, helped spur an $80 million campaign to build the Muhammad Ali Center, which opened in 2005. Rochelle has won many state and national honors, including the 2013 National Headliner's Award for best local column writing, five Michigan Associated Press Editorial Association awards for best column writing (including 2013), two Salute to Excellence Awards for Best Column Writing from the National Association of Black Journalists and the 2011 Will Rogers Humanitarian Award for community service from the National Society of Newspaper Columnists. This year, Hour magazine readers named her the best female local news columnist for the fourth year in a row. She received the 2011 Neal Shine Award for Media Commitment to Philanthropy from the Association of Fundraising Professionals for her dedication in and work around Detroit. The Michigan Press Association has named her Michigan's best local columnist three times in six years. And her columns on the downfall of former Detroit Mayor Kwame Kilpatrick were part of the entry that won the 2009 Pulitzer Prize for Local Reporting. Rochelle earned her journalism degree from the University of North Carolina at Chapel Hill, where she was named the 2010 Harvey Beech Outstanding Alumna. She was a 2007 Knight-Wallace Fellow at the University of Michigan, where she studied social media, film and creative writing.
Niagara Community & Public Service Award: Gleaners Community Food Bank

Received by W. DeWayne Wells, President
DeWayne Wells is President of Gleaners Community Food Bank of S.E. Michigan, the largest food bank in Michigan and 16th largest in the country. In 2013 Gleaners distributed 42 million pounds of food in its five county service area through its network of over 450 partner agencies.
DeWayne has led the organization to a new strategic framework focused on meeting the increasing demand for emergency food through more collaborative service delivery, improved access points, policy and systems work and community education and engagement. An active member of Detroit's food system communict6y, DeWayne serves on the Detroit Food Policy Council, the Detroit Food and Fitness Collaborative and the Boards of Eastern Market Corporation and the Food Bank Council of Michigan.
Carol Cain

Senior Producer/Host of CBS 62's 'Michigan Matters'
Carol Cain is an Emmy Award winning journalist who is Senior Producer and Host of "Michigan Matters" — the weekly show airing 11:30 am Sundays on CBS62 that features politics, business, education and more.
She is also assisting the CBS station with its award-winning "Eye on the Future" community effort. As part of that she has written, produced and hosted prime time TV specials that have included: "Building Bridges: From The Great Lakes To The Great Wall," "Powering Michigan's Future," "Rx for Michigan," and Reinventing Michigan."
She has hosted "Michigan Matters" since its debut eight years ago. It features regular panelists Oakland County Executive L. Brooks Patterson and Denise Ilitch. And she has guests including: Govs. Snyder, Granholm, Blanchard and Engler, China's Ambassador to the U.S., Rev. Jesse Jackson, County Executives Robert Ficano, Mark Hackel, and countless local, national and international political, education and community leaders.
She is a columnist at Detroit Free Press, writing about business and politics on Sundays. A prolific writer, she pens columns for the Michigan Chronicle, Dome magazine, CBS News and other publications.
She also offers her commentaries on politics, business and social issues for local and national broadcast outlets.
Ms Cain is actively involved in the community and putting a spotlight on opening the lines of communicatios for better understanding and welcoming of diversity of all kinds.
She has been moderator of The Michigan Chronicle's "Pancakes and Politics" since its start seven years ago. and has moderated important conversations for the Detroit Economic Club, the Detroit Regional Chamber, and countless other organizations,
Born in Detroit, she attended Detroit Public Schools, obtained her BA from Michigan State University and her MBA from the University of Michigan.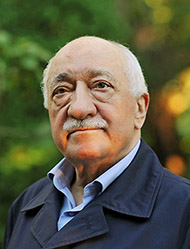 M. Fethullah Gulen

Honorary President, Niagara Foundation
M. Fethullah Gulen was born in the small village of Korucuk, in Erzurum Province, Eastern Turkey, in November 1938. Known by his simple and austere life style, Mr. Gulen has been from his earliest years a gifted Islamic scholar and thinker, and a creative writer and poet. His father taught him Arabic, and initiated in him his profound love of Prophet Mohammad (PBUH) and his Companions. Later he continued his studies under the guidance of some of the most prominent Islamic scholars in Eastern Turkey. He received further training in the religious sciences.
Mr. Gulen, so distinguished himself that he was asked to begin teaching when he was only fifteen. He did so while continuing his studies in the religious sciences. Blessed with extraordinary oratory skills, even at young age, Gulen was recognized as one of the more accomplished Islamic preachers in the early 1950s, mentioned in the same breath with some of the more learned scholars, many years his senior, in Eastern Anatolia.
Gulen devoted his life trying to solve society's ills and spiritual sufferings, and inspired the establishment of many charitable organizations to serve the welfare of the underprivileged. He published a number of well-known books, most of which remain on the best seller list in Turkey, and have also been translated into English. These include The Infinite Light, Questions, Towards the Lost Paradise, and Truth through Colors.
At a time when humanity is in a desperate need of leaders and role models, we find a true innovator and an inspirational leader as well as a deeply good man in M. Fethullah Gulen.
When he retired from formal teaching studies in 1980 he had inspired a whole generation of young students, many of whom are leaders in their communities today and of course, Niagara Foundation itself, especially they are the purpose of this evening, all based upon the work of this man.