EVENT HIGHLIGHTS
Niagara Foundation publicly recognizes individuals and organizations who have distinguished themselves in their profession and contributed their time, energy, leadership, and dedication to the cause of dialog, peace, understanding, education and community service.
Date
Friday, April 25, 2014
Time
6:30pm – 9:15 pm
Venue: Milwaukee Athletic Club, Milwaukee
Address
758 N Broadway, Milwaukee, WI 53202
6:00 – Registration starts
6:30 – Reception
7:00 – Dinner
8:00 – Welcome & Opening Remarks
8:15 – Awards Presentations
Awards Presentations Fee: $50 (Individual Ticket)
EDUCATION AWARD

Michael R. Lovell, Chancellor

University of Wisconsin-Milwaukee
Michael R. Lovell was confirmed as the eighth Chancellor of the University of Wisconsin-Milwaukee in May 2011. He joined UWM in 2008 as dean of the College of Engineering & Applied Science and a professor of mechanical engineering. He was subsequently named a State of Wisconsin Distinguished Professor—a designation by the University of Wisconsin System that recognizes and supports professorships in areas of vital or emerging significance to the state.
read more
MEDIA AWARD
Milwaukee Journal Sentinelr

received byMartin KaiserEditor and Senior Vice President
The Milwaukee Journal Sentinel, the largest news organization in Wisconsin, published for the first time on April 2, 1995, after the merger of The Milwaukee Journal and the Milwaukee Sentinel. It is part of Journal Communications, a diversified media company with operations in publishing, broadcast and digital content in 11 states.
read more
COMMUNITY SERVICE AWARD

United Way of Greater Milwaukee
Received by
Mary Lou Young, President and CEO
United Way of Greater Milwaukee is an independently-governed 501(c)3 nonprofit organization connected to a network of more than 1,400 local United Ways through United Way Worldwide. United Way of Greater Milwaukee has its own board of directors and focuses its work on local solutions for local problems. United Way of Greater Milwaukee's strategic approach to community problem solving concentrates on collaboration and results, and achieves results through 160-plus programs at over 80 partner agencies.
read more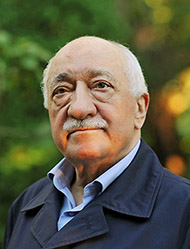 Fethullah Gulen

Turkish Muslim scholar, thinker, and poet
M. Fethullah Gulen was born in the small village of Korucuk, in Erzurum Province, Eastern Turkey, in November 1938. Known by his simple and austere life style, Mr. Gulen has been from his earliest years a gifted Islamic scholar and thinker, and a creative writer and poet. His father taught him Arabic, and initiated in him his profound love of Prophet Mohammad (PBUH) and his Companions. Later he continued his studies under the guidance of some of the most prominent Islamic scholars in Eastern Turkey. He received further training in the religious sciences.
Mr. Gulen, so distinguished himself that he was asked to begin teaching when he was only fifteen. He did so while continuing his studies in the religious sciences. Blessed with extraordinary oratory skills, even at young age, Gulen was recognized as one of the more accomplished Islamic preachers in the early 1950s, mentioned in the same breath with some of the more learned scholars, many years his senior, in Eastern Anatolia. Gulen devoted his life trying to solve society's ills and spiritual sufferings, and inspired the establishment of many charitable organizations to serve the welfare of the underprivileged. He published a number of well-known books, most of which remain on the best seller list in Turkey, and have also been translated into English. These include The Infinite Light, Questions, Towards the Lost Paradise, and Truth through Colors. At a time when humanity is in a desperate need of leaders and role models, we find a true innovator and an inspirational leader as well as a deeply good man in M. Fethullah Gulen.
When he retired from formal teaching studies in 1980 he had inspired a whole generation of young students, many of whom are leaders in their communities today and of course, Niagara Foundation itself, especially they are the purpose of this evening, all based upon the work of this man