EVENT HIGHLIGHTS
Niagara Foundation publicly recognizes outstanding achievements of those recipients who have distinguished themselves in their profession, time, energy, expertise and service to humanity. The awards are based on a variety of factors, including community service, education, community educational involvement, professional and community honors, business and professional leadership, media and educational honors.
Date
Thursday
April 18th, 2013
6:30 – 9:00 pm
Venue
Crowne Plaza Crystal Ballroom
7750 Carondelet Ave.
Clayton, MO 63105
Niagara Community Service Award: Anna Crosslin

President & CEO, International Institute of St. Louis
Anna Crosslin has led the International Institute of St. Louis since 1978. Founded in 1919, the Institute provides English classes, job placement, counseling, micro-lending, refugee resettlement, and other integrative services to more than 7,000 immigrants from 75 countries annually. Her entrepreneurial style of leadership has also spawned the International Institute Community Development Corporation, the International Institute Business Solutions Center, and the National Immigrant Family Violence Initiative.
In 1975 Crosslin served as co-founder of the Japanese Festival, still held annually on Labor Day weekend at the Missouri Botanical Garden. Then, 1992 she co-founded International Folkfest which operated for more than a decade at Queeny Park. In 2000 she co-founded the International Institute's Festival of Nations. The festival now attracts more than 140,000 visitors to Tower Grove Park on the City's Southside each August.
She serves on a variety of local and national initiatives including the Immigration & Innovation Task Force of St. Louis City and County, which seeks to identify and implement ways to attract more immigrants to St. Louis – and retain the ones already living here. Crosslin is also a Board member of the National Asian Pacific Center for Aging, headquartered in Seattle, WA.
Crosslin is the recipient of numerous recognitions and awards including annual recognition for the past decade on the St. Louis Business Journal's "Most Influential St. Louisans" list as well as recognition on St. Louis Magazine's "St. Louis' Most Powerful People" list. In 2012 she received the Global Ambassador Award, World Trade Center, STL County Economic Council; the Anthony Ramirez "Esperanza Award" from the Hispanic Leaders Group; and the Lifetime Achievement Award from Interfaith Legal Services for Immigrants.
Crosslin is also a past recipient of the YWCA Racial Justice Leader award; the Brotherhood-Sisterhood Award of the NCCJ; the Stack Community Relations Award of the Jewish Community Relations Council; St. Louis Children's Hospital Community Advocate of the Year Award; the Distinguished Fair Housing Service Award from the St. Louis Civil Rights Enforcement Agency; the Hispanic Chamber of Commerce Business Advocate of the Year award; and leadership awards from the Kemper Foundation and FOCUS St. Louis.
She has been awarded two honorary doctorates – one from Webster University in 1992 and in 2006 another from Washington University, her alma mater. She is a 1985 graduate of the Danforth Foundation's Leadership St. Louis Program.
Born in Tokyo, Japan, Crosslin came to America at the age of two with her Japanese immigrant mother and American-born father who was in the US Air Force. She is married to Wayne Crosslin, a retired photojournalist who worked for the St. Louis Post Dispatch for more than 30 years. They have a daughter, Clare, a college student.
Niagara Media Award: Dr. Donald Suggs

Publisher & Executive Editor, The St. Louis American Newspaper
Donald M. Suggs was born in East Chicago, Indiana and attended the public schools there. He graduated with B.S. and D.D.S. Degrees from Indiana University, then completed his post-graduate work at Washington University Dental School and Homer G. Phillips Hospital. He served as chief of oral surgery at Dover Air Force Base in Delaware and was the first African-American to serve as an associate clinical professor at St. Louis University Dental School. Suggs was a fellow of the American Association of Oral and Maxillo-facial Surgeons and maintained a limited private practice in his specialty before retiring in 2011.
Active in the civil rights movement in the 60's and 70's, he served as chairman of the Poor People's March-On-Washington in 1968. Later, he became founder and chairman of the African Continuum, organized to bring serious non-commercial African-American artistic endeavors to St. Louis. He was a long-time president of the Alexander-Suggs Gallery of African Art based in St. Louis and New York City (1970-1989). He is a founding member of the Center for African Art, (now the Museum of African Art in New York City) and is a former member of the board of directors of the Studio Museum in New York as well. Suggs currently serves on the St. Louis Art Museum Board of Commissioners and its Collections Committee.
He was the first African American to serve as president of the Convention and Visitors Bureau of St. Louis. His business activities also include: president of Arch Concessions and a partner with D & D Concessions and the City Plaza Project.
Dr. Suggs has been awarded honorary doctorate degrees from Washington University, the University of Missouri-St. Louis, Harris-Stowe State University and St. Louis University and is the recipient of many civic awards.
He is currently publisher and executive editor of the St. Louis American Newspaper, Missouri's largest black newspaper. He is the father of Donald M. Jr. of New York City, Dawn Marie of Los Angeles, California, and Dina Margaret, of Washington, D.C., and grandfather of Delali Maxine Suggs Akaffu.
The University of Missouri-Columbia, Southeast Missouri State University and Harris-Stowe State University provide annual scholarships in his name.
He has traveled widely in Europe, Asia, South America, the Caribbean, the Middle East and Africa.
Niagara Leadership Award: Charlie Dooley

St. Louis County Executive
Charlie A. Dooley grew up in St. Louis and attended Clark Elementary in North St. Louis and graduated from Wellston High School. As a very young man he became a mentor by coaching the youth of his North County neighborhood in baseball for a local Police Association. He developed a natural ability as a role model, and his early coaching was soon followed by many more admirable commitments during his lifetime.
In 1965, he enlisted in the United States Army and was stationed in the Republic of Vietnam in 1966 as a Specialist, 5th Class and he received an honorable discharge in 1968. After his military tour of duty, he came home and went to work at McDonnell-Douglas Co. He enjoyed a thirty-year career there before retiring and moving on to a new vocation in public service.
During the years at McDonnell Douglas, Dooley also became more active in citizen affairs and soon progressed to his current and longstanding incumbency as Committeeman of Normandy Township. From there, he went on to his Mayoral position for the City of Northwoods. While mayor of his hometown, he invested an enormous amount of time into the community at large by serving as President of the Missouri Chapter of Black Mayors, President of the St. Louis County Municipal League, Co-Chair of the Normandy Communities Forum, Treasurer of the Mayors of Small Cities organization and member of the St. Louis County Economic Council. He was a delegate to the Democratic National Convention in 1988 and in 2004.
Following his extensive responsibilities as mayor of Northwoods, Dooley's career expanded even further when he was elected First District Councilman of St. Louis County. Then in 2003, he was appointed to the position of St. Louis County Executive. He then went on to be elected to the office of County Executive in November of 2004, and reelected in November 2006 and in November 2010. As County Executive, Dooley now manages a county of one million people and a budget in excess of $500 million. Along with his many duties as County Executive, Dooley is also a member of the East-West Gateway Coordinating Council Board of Directors and oversees the St. Louis County Economic Council.
As his responsibilities have grown and expanded, his list of priorities also continues to expand and grow. Included on that list are economic development initiatives such as the almost 600-acre NorthPark Development and the innovative St. Louis County Economic Collaborative, which was created to connect municipalities and the region at large to draw national attention from business leaders and economic development professionals looking to establish or expand their businesses in St. Louis County. In another collaborative effort, Dooley took part in the first joint meeting between the St. Louis County Council and the St. Charles County Council. The two councils agreed to meet regularly in an effort to work together on issues of regional importance. He also championed the County's Family Mental Health Collaborative, which is now being used on a national level as a creative solution to the many problems associated with serving the mental health needs of an often underserved segment of a community.
Furthermore, Dooley continues to work with legislators in Jefferson City to implement legislative remedies for many issues impacting residents of St. Louis County. He has worked with a number of those legislators on the serious problem of the escalating property taxes, particularly for senior citizens living on a fixed income. He has also worked to strengthen our neighborhoods with a property inspection program and with the reorganization of the Neighborhood Preservation program, particularly in the area of problem properties.
Dooley brings a belief to the position of County Executive that the 21st Century will require a higher level of responsibility, commitment, and giving back in order to overcome fiscal and environmental challenges that may arise. He asks everyone, regardless of age, color or creed, not to be afraid of the political system. Good governance, he believes, stems from talented, hard working office holders who benefit from the wisdom of informed and engaged citizens.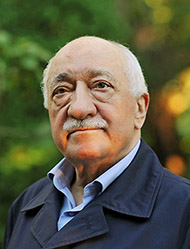 M. Fethullah Gulen

Honorary President, Niagara Foundation
M. Fethullah Gulen was born in the small village of Korucuk, in Erzurum Province, Eastern Turkey, in November 1938. Known by his simple and austere life style, Mr. Gulen has been from his earliest years a gifted Islamic scholar and thinker, and a creative writer and poet. His father taught him Arabic, and initiated in him his profound love of Prophet Mohammad (PBUH) and his Companions. Later he continued his studies under the guidance of some of the most prominent Islamic scholars in Eastern Turkey. He received further training in the religious sciences.
Mr. Gulen, so distinguished himself that he was asked to begin teaching when he was only fifteen. He did so while continuing his studies in the religious sciences. Blessed with extraordinary oratory skills, even at young age, Gulen was recognized as one of the more accomplished Islamic preachers in the early 1950s, mentioned in the same breath with some of the more learned scholars, many years his senior, in Eastern Anatolia.
Gulen devoted his life trying to solve society's ills and spiritual sufferings, and inspired the establishment of many charitable organizations to serve the welfare of the underprivileged. He published a number of well-known books, most of which remain on the best seller list in Turkey, and have also been translated into English. These include The Infinite Light, Questions, Towards the Lost Paradise, and Truth through Colors.
At a time when humanity is in a desperate need of leaders and role models, we find a true innovator and an inspirational leader as well as a deeply good man in M. Fethullah Gulen.
When he retired from formal teaching studies in 1980 he had inspired a whole generation of young students, many of whom are leaders in their communities today and of course, Niagara Foundation itself, especially they are the purpose of this evening, all based upon the work of this man.