By: Kathy Bolano, Communications Intern
On Wednesday, February 18, Niagara Foundation screened the film Not My Life in partnership with UNICEF US Fund. The screening was hosted by Marshaun Montgomery, a UNICEF USA Global Citizen Fellow, and attended by over 20 people. After the film, Niagara staff, UNICEF representatives and visitors engaged in a poignant and heartfelt discussion regarding individual and collective actions to stop human trafficking.
Not My Life documents human trafficking cases from 13 countries, including Albania, Ghana, Cambodia, Romania, India and the United States. Examples of human rights crimes covered by the film include young boys forced to fish on Lake Volta in Africa, children begging and sorting trash in New Delhi, and women and children being exploited for sex tourism in Phnom Penh. The film uses real footage as wells as interviews from victims, offenders and activists. In addition to highlighting the horrific nature of human trafficking, Not My Life also shows the work accomplished by individuals and organizations in rehabilitating victims, arresting perpetrators and preventing further crimes.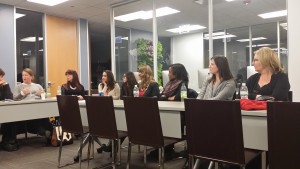 After the film, Niagara staff, UNICEF US Fund staff and guests had a conversation about the film's impact and solutions to human trafficking. One of the long-term solutions suggested was a need for advocacy on local, national and international levels in order to push for more laws, enforcement and concrete punishments. Better funding and more resources are also necessary in order to help victims and prevent further trafficking crimes. It was noted during the discussion that the United States is one of only three countries in the United Nations that did not sign the Convention of the Rights of the Child.
The group also discussed possible social changes to stop human trafficking. One such change is a paradigm shift from viewing sex workers as criminals to recognizing them as victims. Another change involves promoting better treatment of women by men and education for young men about gender equality, as men are often traffickers or the clients of trafficked women and children.
Other point brought up in the discussion included the need to be aware of the signs of trafficking. There is a 24 hour hotline to report suspicious activities, as well as resources for how to recognize trafficking in your community.
Even further, we can be conscious consumers. You can go on slaveryfootprint.org and discover just how many items you use are produced by slaves. Some individual actions that were discussed included purchasing fair trade or direct trade coffee and chocolate and only traveling with companies and hotels that are members of ECPAT (End Child Prostitution, Child Pornography and Trafficking of Children for Sexual Purposes) who have taken a stance against human trafficking and the exploitation of our children.
The Niagara Foundation would like to thank Marshaun Montgomery and all at UNICEF US Fund for allowing us to host this event and facilitating the following conversation. We hope that action can be taken and we can help in the fight against human trafficking.