EVENT HIGHLIGHTS
Niagara Foundation is proud to partner with Congregation Etz Chaim for its Annual Interfaith Concert. This concert aims to bring together people of different faith traditions in the spirit of art.
"Drawing upon the traditional melodies of the Middle East and South Asia combined with those of Jewish music, Salaam-Shalom affirms the possibilities for mutual learning, enrichment and good will among JEws, Muslims and Christians. The Project members reach out to each other to teach and celebrate their heritage through music."
Please register by contacting Congregation Etz Chaim via email at [email protected].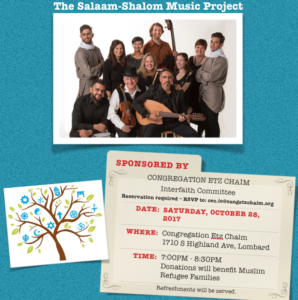 Date:
Wednesday, November 15.
7:00pm- 8:30pm
Refreshments will be served.
Venue
Congregation Etz Chaim
1710 S. Highland Ave,
Lombard, Il