On March 2, the Niagara Foundation had the pleasure of welcoming Ms. Kate Benson, J.D. to our flagship office in downtown Chicago. In addition to Ms. Benson, the Niagara staff welcomed several professionals from a variety of fields for the Public and Global Affairs event, held in honor of International Women's Day. Kate Benson is the President and CEO of the Chicago Network, a nonprofit networking organization exclusively for influential and civically engaged professional women. This organization in Benson's own words seeks to address an issue specific to successful women in positions of power that "it's lonely at the top."
The Chicago Network's members are women from diverse backgrounds, and who have pursued careers in varied fields. One member Wendy Freedman, an astrophysicist at the University of Chicago, is currently working to build the Giant Magellan Telescope, a telescope that has the potential to produce an image that is 10 times sharper than the Hubble space telescope. Another member is Michelle Larson, who is the President of the Adler Planetarium in Chicago.
The mission of TCN is also to inspire the next generation of women in leadership roles through two unique initiatives. The first program, called "Future Leaders" is for first-generation college sophomores and juniors, connects these young women with women who hold positions of senior leadership in both the for-profit and nonprofit sectors. This initiative was created so these women can immerse themselves in career exposure and gain valuable new experience.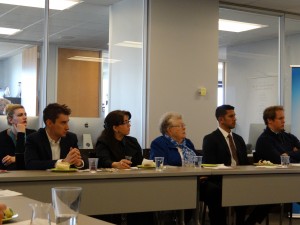 The Chicago Network also strives to create awareness about the professional, political, and social issues that disproportionately affect women. Ms. Benson has a positive outlook on the strives that businesses are making in order to become more progressive for women in professional settings, "It's not that companies aren't trying, many of them are. One of the things which we've seen a lot of press about are flexible workplace solutions; working part-time, working remotely." According to Ms. Benson, the mission of TCN is so effective for women is because the many of the experience and challenge that professional women face are universal, "There is a lot of research that is looking at the career continuum and how the paths of men and women diverge. There are differences in gender in terms of expectations; women tend to be less competitive. In addition, the definition of success is evolving. It's now changing for both men and women to include meaningful work, raising a family, and it's not necessarily having that top title."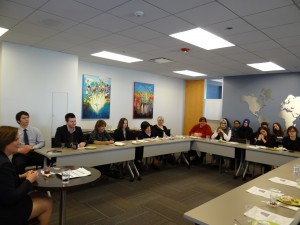 Ms. Benson offered some advice to women who desire to move up the office ladder, perhaps most notably her insistence that professional women speak up and, "ask for what you want" and to "stop accepting the status quo." Through these attitudes, women can be more assertive in the workplace, and will likely achieve more in a professional setting. In order to achieve success, women must work harder, take assignments that no one else wants, and prove their merit far more often than their male counterparts, according to Benson.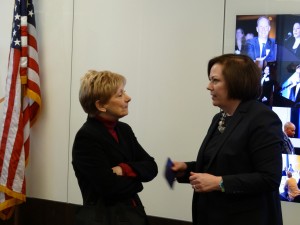 Kate Benson ended her presentation on a positive note, stating that several of the largest companies in Chicago are creating and implementing progressive policies that benefit women in the workplace. It's true that companies with more diversity make better decisions, and if the city of Chicago wishes to stay relevant in the global economy as a tech innovator, the inclusion of women can certainly help pave the way.
Jules Peaslee, Communications Intern
March 2, 2016