By Brooke Moscow, Public and Global Affairs Intern
On Wednesday, April 22, The Niagara Foundation was thrilled to have Professor George Saliba join us as our annual Fethullah Gulen Lecture Series speaker to speak about Islamic Science and the European Scientific Tradition. Professor Saliba is a historian of Arab and Islamic science, and has been teaching at Columbia University since 1978. Prof. Saliba was introduced by one of his former students, Scott Alexander, a professor of Islamic Studies and Director of the Catholic-Muslim Studies Program at the Catholic Theological Union, who spoke about the profound impact Prof. Saliba had on him in his younger days and the importance of marrying human intellect to the heart.
Prof. Saliba began his talk by pointing out that the most noticeable effect of Arab/Islamic culture on Western science is astronomy. Particularly in looking at the names of the stars, we can see the influence that Arab/Islamic science has had on Western culture. Beginning during the Renaissance, Abd al-Rahman al-Sufi, a Persian astronomer, married the Bedouin Arab celestial traditions with the emerging Greek ones. Because Arabs had their own stories and myths about the constellations and the cosmos, Sufi wished to preserve these traditions, and thus sought to incorporate them into the new Greek tradition. Following this, at a time when there were many competing theories and scientific traditions, the Bedouin names came to be understood as holding a great deal of legitimacy. As respect for the Arabic astronomical findings rose within the scientific community, their usage spread to parts of Europe. In Amsterdam, a cartographer named Jacob Aertsz Colom began to put Arabic names on globes to give them a more authentic feel, and King Louis XIV of France even had a globe with the Arabic names specially made for his own personal use. Renaissance scientists were reading Islamic science and associating their work with these teachings in order to promote their own findings, and Abd al-Rahman al-Sufi came to be seen as a Renaissance icon.
Prof. Saliba also discussed some other important scientific innovations from early Muslim scientists that have had profound impacts on technology that we still use today. For example, Nasir al-Din al-Tusi, a Persian scholar and thinker, fathered a geometrical technique called a Tusi-couple, which generates linear motion from a model that combines two circular motions. His model later influenced renowned astronomer Nicolaus Copernicus's work and was essential to the creation of important modern technology such as the steering wheel and the steam engine.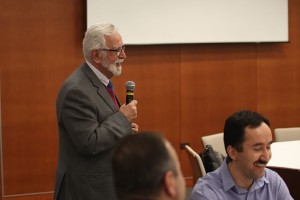 Besides sharing these important scientific contributions that have been made by Muslim and Arab scholars, Prof. Saliba also stressed the importance of teaching future generations about these meaningful contributions, as they are often undervalued or neglected in the teaching of Western scientific history.
We thank Prof. Saliba for his enlightening and informative talk and feel lucky to have been able to learn from such an insightful and engaging scholar.