Loop Synagogue- Day of Solidarity

By: Kristiana Peric and Ellen Gutoske
On February 4th, just past midnight Stuart Wright drove up to the Chicago Loop Synagogue on 16 S. Clark Street and vandalized the front of the property. He smashed one front window and stuck swastika stickers on the other windows. Wright will be charged with a hate crime as he targeted a specific population and was motivated by hatred. Hate crimes have been on the rise, increasing 6% in 2015.
This was the first attack since the Chicago Loop Synagogue open in 1959.
Following the vandalism, the Chicago Loop Synagogue received an outpouring of support from community members with a variety of faith backgrounds. The windows were since covered by letters of support from Christian, Muslim, and Jewish neighbors who stand in solidarity against this hateful act.
On Wednesday, February the 8th, at the Chicago Loop Synagogue, all were welcomed to attend a gathering that focused on support and showing solidarity with the Jewish community. It was there where people of all different faiths came together to hear speakers who were Christian, Muslim, etc. unite everyone there with their words. It was a very moving experience where people engaged in sorrow and empathy for those in fear and shock. Ironically, it was in this unison of sadness where love was truly shown and exposed. With the front of the synagogue being plastered in love notes and cards to the Jewish community, showing that love for them was greater in numbers than hatred. It was very evident to the Jewish people how deeply their hearts were touched to see that people of diverse and different backgrounds all took time out of their day to come and just simply be present. It was shocking to see how much strength lies in just a person being there to hold hands in unity with their neighbor.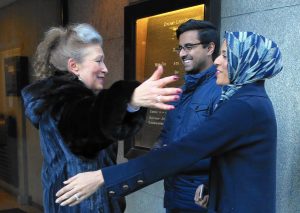 The views and opinions expressed on The Falls are those of the authors and do not necessarily reflect the views or opinions of Niagara Foundation.
Sources:
Photo Credit: https://www.dnainfo.com/chicago/20170206/loop/chicago-loop-synagogue-receives-outpouring-of-support-after-attack
http://www.chicagotribune.com/news/local/breaking/ct-loop-synagogue-hate-crime-20170208-story.html