EVENT HIGHLIGHTS
Niagara Foundation is pleased to host Rabbi Shoshanah Conover, Tahera Ahmad, Associate Chaplain & Director of Interfaith Engagement, and Jacquelina Marquez, M.Div., Northwestern University to discuss "Women of Faith and the Future of Feminism" in celebration of Women's Month.
The "Women of Faith and Future of Feminism" will feature three speakers from a variety of faith backgrounds and experiences. The guiding questions for the panel are:
1). How do you define Feminism through your own faith?
2). What kind of injustices do you see facing women/womyn today?
3). Where do you hope the feminist movement will head and what can we do to get it there?
This will then be followed by a Q and A session and closed with open dialogue over tea and quick lunch.
Please contact Rana regarding questions about this event.
---
When: Wednesday, March 29th
Time: 11:30am-1:00pm
Where:Niagara Foundation- Chicago
205 N Michigan Ave. St:4240
Chicago, IL 60601
Rabbi Shoshanah Conover
Rabbi Shoshanah Conover earned a B.A. in English Literature and Creative Writing with honors from the University of Wisconsin-Madison. Her love of the Jewish people and Jewish texts as well as a strong commitment to social justice led her to rabbinical school. Rabbi Conover's responsibilities at Temple Sholom of Chicago reflect her passions: serving as pastoral counselor, learning and teaching inspiring (and challenging) texts, leading dynamic and engaging spiritual experiences, and finding ways to improve our world through the guidelines of our faith. Rabbi Conover is a Senior Rabbinic Fellow of the Shalom Hartman Institute and is a leader in the pioneering work of the Central Conference of American Reform Rabbis' Rabbis Organizing Rabbis. She serves on the Executive Committee of the Chicago Board of Rabbis as well as the Union of Reform Judaism's Commission on Social Action. She is a vice-chair of Chicago's Jewish Community Relations Council and received AVODAH's Partner in Tzedek Award. She loves spending time with her husband Damien and two sons Eli and Ben.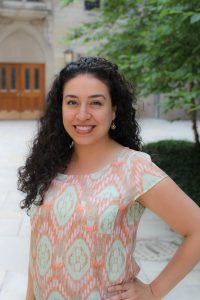 Chaplain Jacquelina Marquez
Jackie Marquez is an active member and ordained minister in the Christian Church (Disciples of Christ). She has a spiritually rich, ecumenical background with roots in Catholicism, Pentecostal traditions and a Presbyterian (P.C.U.S.A.) seminary education. A Chicagoan through and through, Jackie is a graduate of Whitney Young Magnet High School and DePaul University. Additionally, she received her Master of Divinity from McCormick Theological Seminary and a Master of Arts in Pastoral Counseling from Loyola University's Institute of Pastoral Studies.
Jackie is deeply rooted in her Mexican-American heritage and connection to the Pilsen neighborhood. In addition to her work as Associate University Chaplain, Jackie serves as adjunct faculty in theological institutions helping to educate and inspire the next generation of leaders. When not preaching or leading worship at the University Chapels, she worships at University Church Chicago.
Jackie is passionate about helping people live deeply in relationship with and knowledge of God's grace and love. She believes and works towards unity among Christians and is dedicated to interfaith dialogue and collaboration. On her free time, you can always catch Jackie in search of the perfect cup of coffee or sampling dark chocolate.
more to come…