On March 16, the Niagara Foundation welcomed Linsey Maughan to talk about the UN Women Chicago Chapter as a part of the "Public and Global Affairs" lecture series. Linsey Maughan graduated from Southern Illinois University in 2005 and pursued an M.F.A. in creative writing at the University of Florida. She went on to study at the University of Illinois at Chicago and earned her Master of Public Administration in 2013. Maughan is currently the Department and Communications manager at the Illinois Institute of Technology, has been the President of the Chicago Chapter of the U.S. National Committee for UN Women since 2014. This chapter has existed since April 2014 and will be going on their second year this spring.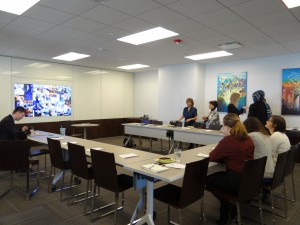 The event at Niagara focused on her experience as UN Women Chicago Chapter President. This organization is a partner of the official UN Women and is largely concerned with raising awareness of the global obstacles facing women and fundraising for the UN mission in D.C through events, book club meeting, and informational panels. The most recent panel organized by the Chicago chapter of UN Women was ISIS, Refugees, and Women: Abroad and at Home.
The mission of UN Women is largely concerned with 8 major missions: leadership and participation, economic empowerment, ending violence against women, peace and security, humanitarian action, governance and national planning, sustainable development and HIV and AIDS. Additionally, the mission of UN Women is in line with the UN's sustainable development goals for 2030. During the presentation, Ms. Maughan showed a short video, which expanded on the current mission of gender equality and the specific goals of UN Women.
Much of President Maughan's focus is on raising funds for this new and developing chapter, and the organization has taken on the challenge of securing new funding with stride. In 2015, at the annual fundraising event, the Chicago Chapter focused on the theme of the #heforshe to emphasize gender equality and women's issues as a path to progress for all people. Another fundraising project was a partnership with Sephora locations in Lincoln Park and in downtown Chicago that raised $10,000 to support the UN's mission thanks to the generous donations of patrons.
After Ms. Maughan's presentation, the floor opened up to questions. One intern asked, "What specific causes in relation to gender equality are important to you?" To which Maughan answered, "The first issue that comes to mind is education. I am so grateful for the education that I have been able to receive and, therefore, I feel very passionate about accessible education for everyone, but girls in particular who don't have the opportunity in the developing world." Another audience member, Josh Heine asked, "What local issues relating to gender equality are important here in Chicago?" Ms. Maughan replied, "I am internationally focused, but the issues of violence against women in Chicago are really devastating, and also the access to higher education for women in Chicago."
Niagara Foundation extends its warmest thanks to Linsey Maughan for sharing her experience as the head of this new and prosperous chapter of the UN Mission for Women.
By Jules Peaslea
Communications Intern