By Brooke Moscow, Public and Global Affairs Intern
On May 20, Niagara Foundation was delighted to host Hedy M. Ratner, co-founder of the Women's Business Development Center and current President Emerita, for a Chicago & Global Family roundtable talk about her years of experience empowering women to succeed in business and advocating around the globe on behalf of women of all races, ethnicities and nationalities.
Before her work at the Women's Business Development Center, Ms. Ratner was very active in the fight for women's and LGBTQ rights during the second wave of feminism in the '60s and '70s, and was part of a number of different organizations that fought for these rights. Her strong identity as a Jew and connection with Jewish values has contributed to her commitment to secularism and social justice in society, and has informed her passion for helping other women, people of color and other marginalized groups achieve the same levels of successes as everyone else. Ms. Ratner was appointed by President Jimmy Carter to the National Women's Business Conference and later sent by the State Department to a number of different nations including Kuwait, Belarus and India to help promote female leadership and initiatives such as the right to vote for women and the right to run for political office.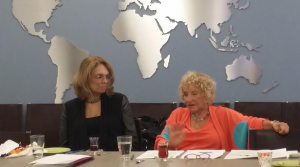 Ms. Ratner founded the Women's Business Development Center in 1986, a time when it was especially difficult to establish non-profit organizations. She opened the center with the hopes that she would be able to empower women and people of color by helping them to create and cultivate their own successful businesses; her vision was that women and other individuals could use small businesses as a means to obtain financial security and independence, and also improve the way that business was conducted on a larger scale. Although Ms. Ratner acknowledged that business in general didn't necessarily agree with her own personal beliefs, as it symbolized capitalism and oppression, small business was a very viable option for marginalized groups who were unable to find employment elsewhere, such as immigrants and women, to make a living for themselves and achieve financial stability.
Once she got the Women's Business Development Center off the ground, Ms. Ratner gained support from Governor James Thompson and Chicago Mayor Richard Daley. She then began seeking support at the federal level, and also pursuing policy changes that would allow women to excel in the business field. For example, women once were not able to have credit in their own name, which diminished their ability to take out loans and grow their businesses. Ms. Ratner was part of the fight to change this and helped enact policies that would allow women to have credit in their name and have easier access to bank loans. She also fought to address the problematic practice of banks not lending to economically disadvantaged communities with the Community Reinvestment act, which allowed such communities better access to bank loans; this in turn made a huge difference in women and minority-owned businesses and their ability to grow and prosper.
As of today, the Women's Business Development Center has helped over 72,000 entrepreneurs in Illinois, primarily in Chicago. Of the people who the center serves, 43 percent are low or moderate income, 92 percent are female, and 63 percent are minorities. They have recently started a program for veterans, who experience incredibly high levels of unemployment, as well as a Latina entrepreneur program, in which programs are conducted in Spanish as well as English.
We would like to thank Hedy Ratner for her engaging and informative talk. She has had an illustrious and inspiring career and we look forward to hearing about what she has in store for the future!