By Ariana Shockley, Interfaith Engagement Intern
On Thursday, May 14th, the Niagara Foundation was delighted to host Father John Heschle from St. Paul's Church by the Lake to speak about refugee ministry and what this entails for the future of his church. Fr. John was instituted at St. Paul's seventh rector in 1993 and has been with the church ever since. He has been an ordained priest with the Diocese of Chicago since 1978, serving his parish's mission of being a traditional parish in the Anglican denomination.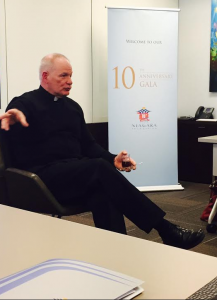 Fr. Heschle began his discussion by providing us with a brief background of St. Paul's Church by the Lake in connection to its location in Roger's Park. This is an Anglican church within the Episcopalian tradition, home to 330 parishioners, and also home to a vast amount of Burmese and South Sudanese refugees. The atmosphere and demographics in Rogers Park began to change in the 60s, soon becoming open to a massive influx of gang activity in the 70s and 80s. When Father Heschle arrived at this parish in the early 90s there were only 37 people in the church. Since then, the church has only continued to expand as a place of spiritual worship. This spiritual foundation results in generating help with the education, music and after school programs St. Paul's offers. Fr. Heschle fervently declared that a church must first begin as a spiritual place, rather than providing social services and relief in hopes of creating a spiritual environment. According to him, "if your religion isn't making this world a better place, it isn't doing the right thing. Religion puts spirituality into practice."
St. Paul's church, as well as Fr. Heschle's work, is predominately concerned with refugee ministry. St. Paul's Church represents 10 various African nations including Ethiopia, Sudan and Kenya. The Lost Boys of Sudan Association hosts their weekly meetings at this parish. On average, there are 30-35 Lost Boys at Sunday mass. The parish also works with the Burmese refugee population of Rogers Park. In order to pursue their refugee work with the most efficiency and with the most resources possible, St. Paul's partners with World Relief, Exodus World Services, Catholic Charities and Ethiopian World Services to name just a few.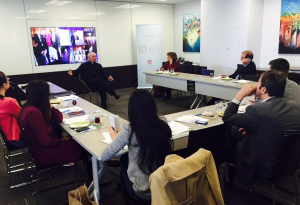 Fr. Heschle concluded his lecture by sharing the increased interest of the youth in his parish and the work they do. Whenever he asks the youth of his parish why the sudden interest in refugee ministry they always answer him with the word 'authenticity.' This summer the church is planning on creating incentives to engage the youth even further: reading/book clubs, as well as possibly exploring a "theology on tap" event.
We thank Fr. Heschle for joining Niagara in the discussion of the current crisis of refugees and the work that must be done on the part of any and all spiritual and religious persons… "We must learn to honor the inherent dignity in each person. We must love more."