On November 25th, the Niagara Foundation hosted Marvinetta Woodley-Penn in a Chicago Global Family event. We could not have been more inspired by her organization and heart-warming stories on how it came about, and the successes she has witnessed in the young students she has served. Marvinetta is the Executive Director of Global Girls Inc., a non-profit organization located in the South Side of Chicago. Global Girls Inc. acts as a safe space and after-school program, where students ages 8-18 are able to come in and communicate their issues or experiences with one another, and turn those stories into an interactive performance piece. Not only does this provide them with an opportunity to turn negative events into a positive experience, but the process also helps them foster stronger communication and leadership skills.
In addition to their after-school initiative and meeting place, Global Girls Inc. also leads different community and school-based programs that provide dozens of students with similar opportunities to collaborate in different art related programs. For example, one of the programs is titled "Young Women on the Move", which offers weekly sessions throughout the school year on performing arts training and show creation. Other similar programs include, "Arts Partner in School", "Take the Stage", and "Global Girl TV", which all provide students with different outlets to express themselves and collaborate to create a powerful performance and inspire them to become confident, diligent, and successful young adults.
The vision of Global Girls Inc. is clear and powerful:"Globally, all girls have the ability to voice their stories, create opportunities, and actualize their dreams". To better showcase the shared strength of women around the world, Marvinetta takes girls on trips every year to different countries to meet with girls of different backgrounds and share stories and establish global friendships. In recent years, they have traveled to different parts of several countries, including Ghana, Kenya, India, and Grenada.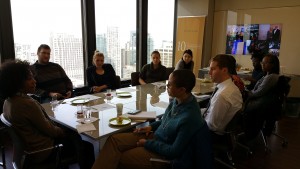 Interacting with girls in places different from their home environment inspires her members to be fearless, and recognize how big the world is outside of their community, and visualize the opportunities to grow professionally and challenge any personal restraints.
Today, we are lucky to call Marvinetta our friend and we look forward to working with her in the future. The mission of Global Girls Inc. parallels our values and views on society, and we hope to involve ourselves in the youthful and bright futures of the members of their organization in the coming years.
By Kelly Williams
Public & Global Affairs Intern