In May 2012, Chicago will become only the second American city to host a NATO Summit, and the upcoming G8 meeting at Camp David provides a welcomed opportunity to engage Chicagoans in the key economic issues of our times. Working with a consortium of local and international organizations, The Chicago Council is pleased to present "In Jeopardy? Europe and the Transatlantic Alliance," a series  featuring public programs on topics such as the future of the transatlantic alliance, the world economy, and other pressing global issues.
Niagara Foundation is a proud partner of these public speakers series. In order to register for these events, please visit the website of The Chicago Council on Global Affairs by Clicking Here.
The promo code for Niagara Foundation members to register for programs in this series at The Chicago Council's member rate is: JEOPARDY. Anyone using the code will receive the member rate for the program. To get the discounted rate you would need to register for the respective program at the Chicago Council's website (link was provided above) and enter the code at the end of the registration process.
Upcoming Events:
The Honorable R. Nicholas Burns
Professor of the Practice of Diplomacy and International Politics, Harvard Kennedy School, and former Under Secretary of State for Political Affairs and former U.S. Ambassador to NATO, U.S. Department of State
Wednesday, March 28, 2012 5:30 p.m.
Jaap de Hoop Scheffer
Copresident, Security and Defence Agenda; Pieter Kooijmans Chair for Peace, Justice and Security, Leiden University; and former NATO Secretary General
Tuesday, April 17, 2012
Martin Wolf
Associate Editor and Chief Economics Commentator,Financial Times
Monday, April 23, 2012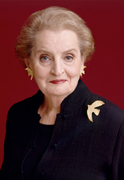 The Honorable Madeleine K. Albright
Former U.S. Secretary of State, and Chair, Albright Stonebridge Group
Wednesday, May 2, 2012