EVENT HIGHLIGHTS
Niagara Foundation publicly recognizes individuals and organizations who have distinguished themselves in their profession and contributed their time, energy, leadership, and dedication to the cause of dialog, peace, understanding, education and community service.
Each year, Niagara Foundation recognizes individuals and organizations in the Midwest community who have demonstrated strong commitment to serving their community while maintaining a global mindset.
Date
Thursday, October 2, 2014
6:30 – 9:00 PM
Dinner & Awards Ceremony
Venue
Sheraton Detroit Novi Hotel
Ballroom A, B
21111 Haggerty Rd, Novi, MI 48375
6:30 – Reception
7:00 – Dinner
8:00 – Welcome & Opening Remarks
8:15 – Awards Presentations
EDUCATION AWARD
---
PEACE AWARD
---
MEDIA AWARD
---
COMMUNITY & PUBLIC SERVICE AWARD
---
LIFETIME LEADERSHIP AWARD
---
MASTER OF CEREMONIES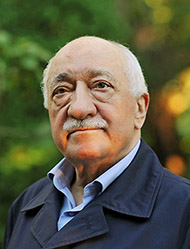 Fethullah Gulen

Turkish Muslim scholar, thinker, and poet
M. Fethullah Gulen was born in the small village of Korucuk, in Erzurum Province, Eastern Turkey, in November 1938. Known by his simple and austere life style, Mr. Gulen has been from his earliest years a gifted Islamic scholar and thinker, and a creative writer and poet. His father taught him Arabic, and initiated in him his profound love of Prophet Mohammad (PBUH) and his Companions. Later he continued his studies under the guidance of some of the most prominent Islamic scholars in Eastern Turkey. He received further training in the religious sciences.
Mr. Gulen, so distinguished himself that he was asked to begin teaching when he was only fifteen. He did so while continuing his studies in the religious sciences. Blessed with extraordinary oratory skills, even at young age, Gulen was recognized as one of the more accomplished Islamic preachers in the early 1950s, mentioned in the same breath with some of the more learned scholars, many years his senior, in Eastern Anatolia. Gulen devoted his life trying to solve society's ills and spiritual sufferings, and inspired the establishment of many charitable organizations to serve the welfare of the underprivileged. He published a number of well-known books, most of which remain on the best seller list in Turkey, and have also been translated into English. These include The Infinite Light, Questions, Towards the Lost Paradise, and Truth through Colors. At a time when humanity is in a desperate need of leaders and role models, we find a true innovator and an inspirational leader as well as a deeply good man in M. Fethullah Gulen.
When he retired from formal teaching studies in 1980 he had inspired a whole generation of young students, many of whom are leaders in their communities today and of course, Niagara Foundation itself, especially they are the purpose of this evening, all based upon the work of this man
David Crumm
Thank you so much for including me in this program tonight. Niagara Foundation's goals are one with the goals shared by "Read the Spirit" online magazine and publishing houses that we have been establishing and our expanding to number of universities across the US and other cities across the US. What motivates me when I wake up in the morning is the ability to use the tools that we have in the kinds of publishing we do, new technology kind of publishing that we produce to allow more people to have their voices and stories heard in more places.
World peace is only possible when all of our stories have the capacity to reach others. We connect through the stories of the lives. I am a huge fan of your radio show and I urge any of you who are not regular listeners to her show to be listening to when hers comes on. I regularly time my errands everyday so that I can hear her show. And the reason that I do is because we share this value of lifting up the stories for people who need to be more likely heard. I thank the Niagara Foundation for your effort to do the same, we are partners in the same dream. Thank you for inviting me tonight and thank you for honoring the "Read the Spirit".
---
Martin Ackley
Mike Flanagan again regrets not being able to here tonight. He certainly appreciates this honor, and appreciates the work of the Niagara Foundation. Mike has for this entire career fought for and pushed for quality education for all kids regardless of race and culture, faith, economic conditions or even where they live. He believes that through education we can built greater knowledge, greater understanding, compassionate and sensible dialog leading to greater peace. So on behalf of Mike Flanagan, he thanks you for this honor and wishes you much success in fostering peace and understanding. Thank you.
---
Tom Watkins
Thank you very much for this truly meaningful recognition. Recognition for the great work not that I do but we do. Remember that old saying, "Can't we all just get along?" And we find ways to build on our differences and strengths we all bring to this world. The world will be a better place. I accept this reward not for myself, but really the young people that are here with us tonight, special woman in my life to give you Sarah . You and the other young people in this room tonight are truly the hope to break down some of the prejudices, the discrimination, that can open the hearts and their minds to all people of the world. Because when we do that the world truly is a better place. Thank you so much.
---
Douglas Kindschi
Thank you so much. I accept this award on behalf of the Kaufman Interfaith Institute and the literal hundreds of people in our community in Grand Rapids who participated in the 2012 year of Interfaith Understanding. We had over 300 events, and this was all done out of an office of one person and a part-time assistant. But, it was the community that did it. It was the symphony, it was the art museum, it was the churches, and the synagogues, and the mosques. And, it was a community effort that we were so pleased. We have just launched our 2015 year of Interfaith Service focusing on community service and particularly working with along with college students and high school students to use their desire to serve on interfaith basis. But I also want to say a word about the Niagara Foundation, because I was privileged, as the picture shows, to travel with a group from Niagara to Turkey.
I was so impressed with the commitment to education, the commitment to service, the commitment to economic equality that the Niagara Foundation and its associated organizations have stood for. I am so impressed. I think the award for peace and dialog should go to the Niagara Foundation. But as a substitute, I am gonna keep this and thank you.
---
Jerry Smith
Thank you very much. Campus of soup kitchen is called the "Capuchin Soup Kitchen", because it is sponsored by the province of Saint Joseph of the Capuchin order. We are a group of men who gave vows of poverty, chastity and obedience. We are part of the Roman Catholic Church, and we sponsor the Capuchin Soup Kitchen. It was kind of developed by accident. As Cindy told us, during 1929, men began lining up on the side walk outside the Saint Monastery asking for food to feed their families.
And so we have been feeding hungry people ever since. And currently, as I think we have said, we provide between 1600 – 2000 meals a day. So, that is a lot of food to a lot hungry people. But we realize that people are hungry in many different ways. And so we try to stimulate minds and encourage people's spiritual life and so on so forth. And after nine years of soup kitchen, it occurs to me that there is two things that are very important I think that we do. One is that we try to help people realize that life can be different.
We try to open people's imaginations and help they realize that they can do whole lot of things they probably never knew that they can do. For example, we have a training program for urban farming. People right from the soup kitchen who come into this eight month program, and learn about urban farming. Some of the graduates of that program have now started businesses selling earth worms. Another man is selling campos , another is selling transplants. These are all things that people probably never dreamed of, never thought of, and they realize that they can do that. Another thing is the Bakery that you saw which is staffed by men who are coming out of prison.
This is an attempt to help them restart their lives, develop job skills, save some money, learn to trade. And a couple of those graduates of that program, one of them now had spent more time in prison than he had as a free man in his adult life and he is now off parole for the first time in his life. He has his own apartment, he reconciled with his family. He has his own car. Things he never dreamed possible in the past. So this is one of the things we really do that is very important. It is help people know and dream that life can be different. The second thing I think that is really important that fits right in with this whole evening here is that we have approximately 3000 volunteers that participate in our program. Come down and work side by side with the men in the bakery, come down and sit down have meal with the people in our soup kitchen. We bring together people from totally different walks of life and you know what, in the process we discover our common humanity. And life is changed for both the people who come in from the suburbs often and the people from the city. We discover we are all same. We are all part of the human race. And that is something we really celebrate at the soup kitchen. And I think that is right on par with what the Niagara Foundation is doing. We thank you for this recognition which I humbly accept in the name of the guests, volunteers and staff that priors the Capuchin Soup Kitchen. Thank you very much.