EVENT HIGHLIGHTS
Niagara Foundation publicly recognizes outstanding achievements of those recipients who have distinguished themselves in their profession, time, energy, expertise and service to humanity. The awards are based on a variety of factors, including community service, education, community educational involvement, professional and community honors, business and professional leadership, media and educational honors.
The event at the Westin hotel in Detroit kicked off with the reading of letter from the Niagara Foundation's honorary chair Fethullah Gulen.
The Detroit Institute of Arts or D-I-A received the Niagara Community Service Award for "being a beacon of culture in the Detroit area for well over a century."
President and CEO of D-I-A, Graham Beal thanked the foundation and called visual arts a "multicultural language."
Graham W. J. Beal said: "I think it is truly moving, I think you might have seen some of that on Iznik where we have them on view, work quite like made by Christians in Turkey going all the way across to Endulus, where you see Christian plates made by Muslims – a proof of truly multicultural tolerant societies".
Dr. Janice Brown, Executive Director of Kalamazoo Promise received the Niagara Education Award. Brown said the foundation understood the important role young people play in creating the future.
Dr. Janice M. Brown also said; "Each and everyone in kalamazoo help those youth be good on the promise..become highly skilled worker and become a good citizen of the creat US. That my friends is what the Kalmazoo promise is all about. It is not Janice Brown, it is making peace and dialogue in one little section of the world".
Steve Schram, Director of Broadcasting in Michigan Radio received the Niagara Media Award and Victor Ghalib Begg, a Muslim community activist received the Niagara Peace Award.
Begg asked the audience to observe a moment of silence and pray for victims of the earthquake in eastern Turkiye.
He also highlighted the Niagara Foundation's effort to promote commonalities among people and spoke about Turkiye as perfect example of religious pluralism.
Date
Thursday
October 27th, 2011
6:30 – 9:00 pm
Venue
The Westin Southfield Detroit
1500 Town Center
Southfield, MI 48075
Niagara Community Service Award: The Detroit Institute of Arts

Receieved by Graham W.J. Beal, Director, President and CEO
Detroit Institute of Arts : The DIA has been a beacon of culture for the Detroit area for well over a century. Founded in 1885, the museum was originally located on Jefferson Avenue, but, due to its rapidly expanding collection, moved to a larger site on Woodward Avenue in 1927. The new Beaux-Arts building, designed by Paul Cret, was immediately referred to as the "temple of art." Two wings were added in the 1960s and 1970s, and a major renovation and expansion that began in 1999 was completed in 2007.
The museum covers 658,000 square feet that includes more than 100 galleries, a 1,150-seat auditorium, a 380-seat lecture/recital hall, an art reference library, and a state-of-the-art conservation services laboratory.
The DIA's collection is among the top six in the United States, comprising a multicultural and multinational survey of human creativity from prehistory through the 21st century. The foundation was laid by William Valentiner, a scholar and art historian from Berlin, who was director from 1924 to 1945. His extensive contacts in Europe, along with support from generous patrons, enabled him to acquire many important works that established the framework of today's collections. Among the notable acquisitions during his tenure are Mexican artist Diego Rivera's Detroit Industry fresco cycle, which Rivera considered his most successful work, and Vincent Van Gogh's Self Portrait, the first van Gogh painting to enter a U.S. museum collection.
A hallmark of the DIA is the diversity of the collection. In addition to outstanding American, European, Modern and Contemporary, and Graphic art, the museum holds significant works of African, Asian, Native American, Oceanic, Islamic, and Ancient art. Among these are the masterpiece sculpture Nail Figure from Zaire and a rare Korean Head of Buddha. In 2000, the DIA established the General Motors Center for African American Art as a curatorial department in order to broaden the museum's collection of African American art.
The museum's director is Graham W. J. Beal, who arrived in 1999 from the Los Angeles County Museum of Art. During his tenure Beal has established the General Motors Center for African American Art (2000), instituted a reorganization of the development and curatorial departments, and oversaw a six-year building renovation and gallery reinstallation project.
Niagara Education Award: Kalamazoo Promise

Dr. Janice M. Brown, Executive Director
The Kalamazoo Promise is a pledge by a group of anonymous donors to pay up to 100 percent of tuition at any of Michigan''s state colleges or universities for graduates of the public high schools of Kalamazoo, Michigan. To receive the minimum 65% benefit, students must have lived within the Kalamazoo School District, attended public high school there for four years, and graduated. To receive a full scholarship, students must have attended Kalamazoo public schools since kindergarten.
The program, unveiled at a November 10, 2005, Kalamazoo Board of Education meeting, is also viewed as an economic development tool for Kalamazoo. Since the Kalamazoo Promise was announced, enrollment in the school district has grown by 16%, test scores have improved, and a greater proportion of high-school graduates are attending college. In 2010 alone, the Kalamazoo Public School district saw enrollment rise 3% to 12,409.
Tuition checks began flowing in 2006. As of summer 2010, the program had paid out $18 million in tuition for about 2,000 high school graduates of Kalamazoo's two high schools and three alternative schools, according to executive administrator Robert Jorth. Most of the money has gone to The University of Michigan, Michigan State University and Western Michigan University. Promise-funded students have enrolled in all but one of Michigan's 15 state universities. As of October 2010, a total of 60 Promise-funded students had obtained bachelor's degrees.
Niagara Peace Award: Victor Ghalib Begg

Community Activist
Victor Ghalib Begg is a retired businessman who spends most of his time in community service and interfaith activities as a Muslim community activist at the local and national level since 1970s. His wife of 38 years, his 3 kids and their spouses are also very much involved in community service and interfaith interactions.
Begg co-chairs the Michigan Roundtable for Diversity & Inclusion — previously known as NCCJ – a premier organization that seeks to eliminate discrimination and racism by working proactively across racial, religious, ethnic and other cultural boundaries. Begg served for 4 years as an elected Trustee on the Bloomfield Hills Board of Education. He co-founded several organizations in the Detroit area such as the Muslim Unity Center Mosque in Bloomfield Hills. He also co-founded Interfaith Partners in the aftermath of 9/11-an interfaith group of Muslims, Christians and Jews working together on social justice issues. He also co-founded the Council of Islamic Organizations of Michigan (CIOM) in late 80s which he currently serves as the Senior Advisor/Chairman Emeritus. His opinion editorials can be seen in the Detroit Free Press frequently on issues related to Muslims and the Muslim Community – as public affairs voice for the Michigan Muslims.
Governor John Engler appointed Victor Begg to the Michigan Community Service Commission where he served for 8 years. He also served on the Blue Ribbon Commission on Michigan Gaming where he was the only NO vote against the Detroit Casinos. Victor Begg was recognized as '2009 Michiganian of the Year' by the Detroit News staff & readers, as 'Community Peacemaker of the Year' by Peace & Conflict Resolutions Studies Center of Wayne State University, and as 'Diversity Champion' by the Birmingham-Bloomfield Race Relations & Diversity Task Force.
Niagara Media Award: Michigan Radio

Received by Steve Schram, Director of Broadcasting
The stations of Michigan Radio are licensed to the Regents of the University of Michigan. Radio began at the University of Michigan in the early 1920s, when the University began producing programs for WWJ in Detroit. The University's strategy at the time wasn't to own stations, but to produce programs for other stations throughout the state. By the early 1940s, the University changed direction and tried to apply for an AM frequency. All AM frequencies were unavailable, so in 1944, Michigan applied for a station at 43.1 MHz in the experimental FM band. The Federal Communications Commission eventually granted a license to Michigan for 91.7 in the newly-designated FM band and WUOM began broadcasting from Angell Hall on the Michigan campus in 1948. The station moved into its new home in the LS&A Building in 1949, where it stayed until 2003. WVGR began broadcasting in December, 1961. WFUM-FM followed in 1985, serving the Flint area. (There was an earlier version of WFUM in Flint for a few years in the 1950′s, repeating WUOM from Ann Arbor.)
Michigan Radio was a pioneer in educational broadcasting, producing programs in the 1950s and '60s that were heard throughout the country on educational, and some commercial, stations. The station was a charter member of NPR in 1971. From its first days on the air, Michigan Radio's program service consisted of music, news, discussion programs, lectures, dramas and documentaries, most of which were produced in the station's four large studios at the LS&A Building. On July 1st, 1996, Michigan Radio inaugurated a new era, entering its second half-century of broadcasting with a news/talk format. Since then, Michigan Radio has grown to become one of the largest public radio stations in the country, with 451,000 weekly listeners to the stations (Fall 2005). Michigan Public Media represents all of the University of Michigan's broadcasting services, including Michigan Radio, Michigan Television, The Environment Report, Michigan Channel and Michigan Productions.
Jennifer White

Host, All Things Considered, Michigan Radio
Jennifer White is Michigan Radio's new All Things Considered host. For the past two years, Jenn has served as Executive Producer and host of the television program, "Out of the Blue: The Michigan Difference," on the Big Ten Network. She was also the host of the nationally distributed public radio documentary "Finding Our Bootstraps: Americans Deal With Recession," and has served as Executive Producer and host of the public television programs "Out of the Box" and "Edible Legacies." Recently, she has moderated several political forums, including gubernatorial and mayoral debates for both public radio and television.
A native of Detroit and graduate of the University of Michigan, she has worked at Michigan Public Media since 1999, most recently as the station's Director of Media Outreach and Community Relations. From 2005-2009, she served as Station Manager for Michigan Television, WFUM-TV.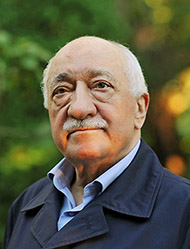 M. Fethullah Gulen

Honorary President, Niagara Foundation
M. Fethullah Gulen was born in the small village of Korucuk, in Erzurum Province, Eastern Turkey, in November 1938. Known by his simple and austere life style, Mr. Gulen has been from his earliest years a gifted Islamic scholar and thinker, and a creative writer and poet. His father taught him Arabic, and initiated in him his profound love of Prophet Mohammad (PBUH) and his Companions. Later he continued his studies under the guidance of some of the most prominent Islamic scholars in Eastern Turkey. He received further training in the religious sciences.
Mr. Gulen, so distinguished himself that he was asked to begin teaching when he was only fifteen. He did so while continuing his studies in the religious sciences. Blessed with extraordinary oratory skills, even at young age, Gulen was recognized as one of the more accomplished Islamic preachers in the early 1950s, mentioned in the same breath with some of the more learned scholars, many years his senior, in Eastern Anatolia.
Gulen devoted his life trying to solve society's ills and spiritual sufferings, and inspired the establishment of many charitable organizations to serve the welfare of the underprivileged. He published a number of well-known books, most of which remain on the best seller list in Turkey, and have also been translated into English. These include The Infinite Light, Questions, Towards the Lost Paradise, and Truth through Colors.
At a time when humanity is in a desperate need of leaders and role models, we find a true innovator and an inspirational leader as well as a deeply good man in M. Fethullah Gulen.
When he retired from formal teaching studies in 1980 he had inspired a whole generation of young students, many of whom are leaders in their communities today and of course, Niagara Foundation itself, especially they are the purpose of this evening, all based upon the work of this man.