EVENT HIGHLIGHTS
Each year, the Niagara Foundation recognizes individuals and organizations in the Chicago community who have demonstrated strong commitment to serving their community while maintaining a global mindset.
Founded in 2006, the Peace & Dialogue Awards seek to encourage leaders in the Chicago community to continue to be forces for positive change, to inspire thoughtful dialogue about the issues facing our community and our world, and to bring together the best and the brightest in the city to work together towards a more peaceful future.
Date
June 15, 2006
6:30 pm
Venue
University Club of Chicago
Cathedral Hall, 9th Floor
76 E Monroe St Chicago, IL 60603
Niagara Community Service Award: Emily L. Barr

President & General Manager ABC 7 Chicago
Niagara Community Service Award: John W. Rowe

Chairman, President and CEO, Exelon Corporation
Niagara Community Service Award: Robert D. Grant

Special Agent in Charge, Chicago FBI
Niagara Community Service Award: Fr. Michael J. Garanzini, S.J.

President, Loyola University Chicago
Niagara Community Service Award: Sunny P. Chico

President, SPC Consulting, LLC
Niagara Community Service Award: James K. Echols

President, Lutheran School of Theology at Chicago
Niagara Community Service Award: Marcia K. Hermansen

Professor, Theology Department, Loyola University Chicago
Niagara Tolerance Award: Rabbi Herman Schaalman

Rabbi Emeritus of Emanuel Congregation in Chicago
Niagara Commitment Award: Martin E. Marty

Professor Emeritus, University of Chicago
Niagara Peace Award: Michael McConnell

Regional Director, American Friends Service Committee
Niagara Media Award: Ekrem Dumanli

Chief Editor, ZAMAN Daily Newspaper
Alan Krashesky

Anchor, NBC5 Chicago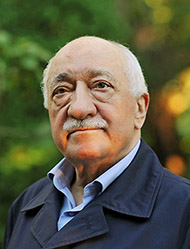 M. Fethullah Gulen

Honorary President, Niagara Foundation
Esteemed Director of the Niagara Foundation, members, and dear guests, I regret that I cannot participate in "2006 Peace and Dialogue Awards" due to poor health. I am grateful for your kind invitation and hope you will forgive for my absence.
The purpose of your ceremony is worthy. Heroes of love must be applauded and awarded at every opportunity, for they aspire to be of service to humanity; they are always welcoming to everyone who passes through their neighborhood; they run, hand in hand with self-sacrificing souls, to soothe the pains of people; they strive to grow roses even among the weeds and sing the praises of the rose.
The fortunate souls who have kneeled down at the school of love and committed their lives to exchanging love with others do not recognize words like revenge, hatred, wrath, and conspiracy. They bow before love and have never stood in the presence of anything but love. These dedicated souls direct all opportunities to love, friendship, and peace; they work in all the fields of the social sphere—education, fine arts, sports, etc.—to serve this purpose. The media becomes the speaking mouth of peace in every aspect. The pleasure of such heroes in this life is derived from nothing but serving humanity.
I was surprised and humbled that an award is to be presented in my name. Throughout my life, I have called for dialogue and peace, and I am moved that you have seen such a small contribution on my part as worthy my having an award named after me; this is a manifestation of your good thoughts and an act of courtesy.
I am at an age where I have left behind egotistic thoughts and my heart is consoled by the social harmony that your every gathering displays; a torch of hope has been lighted for peace in the world. I congratulate the Niagara Foundation, which has become a symbol of dialogue and amity. I extend my humble thanks to the guests who have accepted such invitations and participate in these programs.
Yours sincerely,
M. Fethullah Gülen
Cemal Kulunkuoglu

Horizon International, LLC
Dear Eminent Award Winners,
Distinguished Community Leaders, and
Guests,
Welcome and Good evening to all.
I would like to extend an especially big welcome to those who have been nominated for an award tonight; and to those who took the time to nominate them, and to those who have taken the time to come here to celebrate the achievements of our Chicago Leaders and to highlight future role models.
Today's world is larger than life superheroes, individuals whose names and faces are inescapable, appearing everywhere.
Niagara Foundation would like to take this opportunity to sing the song of those heroes – those individuals whose dedication and devotion to doing good and serving others. They neither seek nor expect recognition or praise in living lives of unparalleled sacrifice for the greater good of humanity. Yet, it is their example and work that is steadily laying the groundwork for peace on earth in the foreseeable future.
They stand for the highest ideals, bearing burdens, and bringing hope to us all in Chicago
Niagara Foundation wishes not only to publicize but also to honor those individuals and organizations whose untiring efforts in working toward peace, community service, education, tolerance, dialog and understanding which exemplify the true meaning of the word, "Hero".
It is an honor and privilege to present the awards in the areas of community service, education, commitment, peace, tolerance and media.
Our congratulations to all of those, who are the recipients tonight. You are the exemplars of good practice, excellence, and our future role models. You have an important role to play. Our sincere commiserations are to the many excellent nominations who couldn't make it this time. You are no less excellent and have an equally important function. You are a beacon to all of us.
When people ask whether we can make a difference by these awards, when they say that our proposals are too difficult, we replied in the words of Rumi, the Great Islamic scholar and Sufi poet: "conventional opinion is the ruin of our souls." For we may be powerless individuals but when we work together – each and all of us – we have the power to shape our community and history; we can all leave our mark for good, because we all can serve humanity.
Tonight's event recognizes exactly that —that we are at our best when we work together to serve others; and that, this is the only way ahead of us for being a community.
2006 Annual Peace & Dialogue Awards celebrate and acknowledge the achievements and contributions of people in fields as diverse as inter-community relations. It will demonstrate that, Christians, Jews, Muslims, Hindus, Buddhists, and all others can live together in peace and harmony and can achieve the highest standards when working together.
Having this opportunity, I would like to thank all Niagara staff, this event planning committee and our advisory board and those who make this event possible, our patrons "Exelon Corporation, Law Offices of Chico & Nunes, Horizon International, LLC, and our supporters, Loyola University Chicago, Elite Media and Zaman and last but not the least, the eminent award winners.
Thank you and enjoy tonight!