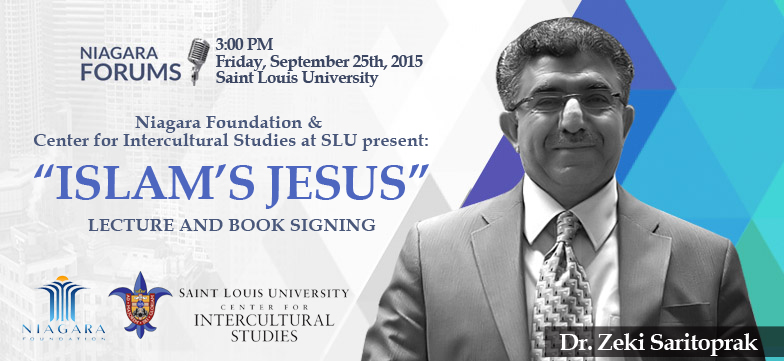 EVENT HIGHLIGHTS
Niagara Foundation and Center for Intercultural Studies of St. Louis University present "Islam's Jesus", a lecture and book signing with author Dr. Zeki Saritoprak. The event will be held in the Center for Global Citizenship Building (CGC), Seminar Room 124 on September 25th, 2015 at 3pm.
Professor Saritoprak will examine the place of Jesus in the Qur'an and Hadith. He will present the topic of Jesus in Islam from an Islamic theological perspective including both classical and contemporary theologians' views of Jesus. Like Christians, Muslims, in general, also believe in the second coming of Jesus, known in Islam as the descent of Jesus. Dr. Saritoprak will highlight different Islamic theological approaches to Jesus's descent. Finally, Dr. Saritoprak will discuss the important role Jesus can play in interfaith dialogue.
Professor Saritoprak will be signing copies of his recent book, "Islam's Jesus" after the lecture.
Please RSVP by September 21st, 2015 at [email protected]
Time: 3pm
Date: Friday, September 25th, 2015
Location: Saint Louis University
Center for Global Citizenship Building (CGC)
Seminar Room 124
3672 West Pine, St. Louis, MO 63108
The CGC is located at 3672 West Pine, 63108 and is most easily recognized by all the flags that are on top of the building. There is metered street parking available on Laclede Avenue between Grand Ave. and Spring Ave.
Refreshments will be provided!
Please RSVP by September 21st, 2015 at [email protected]
Dr. Zeki Saritoprak, Ph.D., has held the Nursi Chair in Islamic Studies at John Carroll University in Cleveland, Ohio, since 2003. He holds a Ph.D. in Islamic Theology from the University of Marmara in Turkey. His dissertation which examines the personification of evil in the Islamic tradition is entitled The Antichrist (al-Dajjal) in Islamic Theology and was published in Turkish in Istanbul in 1992. Prior to coming to John Carroll, Professor Saritoprak held positions at Harran University in Turkey, Georgetown University, the Catholic University of America, and Berry College in Rome, Georgia. He is also the founder and former president of the Rumi Forum for Interfaith Dialogue in Washington, DC.
Professor Saritoprak is the author of over thirty academic articles and encyclopedia entries on topics in Islam. He has served as guest editor for issues of the journals Islam and Christian-Muslim Relations and Muslim World. He is editor and co-translator of Fundamentals of Rumi's Thought: A Mevlevi Sufi Perspective (in English; New Jersery: The Light, 2004) and the editor of a critical edition of al-Sarakhsi's Sifat Ashrat al-Sa'a (in Arabic; Cairo, 1993). His most recent book Islam's Jesus was published by the University Press of Florida in 2014. He is currently preparing a book on Islamic spirituality tentatively titled Islamic Spirituality: Theology and Practice for the Modern World.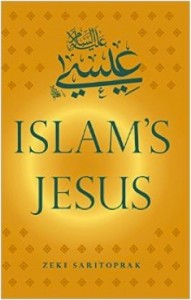 "Accessible and readable. Spotlights an important theological theme in a way that both illuminates its internal development in Islamic thought and presents it as a helpful basis for interreligious discussion. The topic is very much in need of teaching and discussion and is a fine example of 'common ground. "–John Renard, author of Islam and Christianity
"Contains valuable and fascinating material about how classical Muslim theologians treated various aspects of Jesus and, in particular, the role of Jesus in Islamic eschatology. Saritoprak brings new insights from contemporary Turkish thinkers to bear on the issues raised by the Jesus figure in Islamic narratives about the Last Days. "–Marcia Hermansen, author of Shah Wali Allah's Treatises on Islamic Law
"A refreshingly easy read that makes a complex world of theology and interfaith relations accessible and enjoyable for readers of all backgrounds."–Jonathan Brown, author of Hadith: Muhammad's Legacy in the Medieval and Modern World
Few people realize that Jesus was a prominent messenger of God in Islam and that Muslims believe in the return of Jesus. Even among Muslims, it is not well known that there are diverse interpretations of references to Jesus in the Qur'an and the Hadith. Aiming to remedy this, Islam's Jesus takes a bold yet candid look at the highly charged topic of Jesus's place in Islam, exploring some of the religion's least understood aspects.
Examining multiple intellectual traditions, Zeki Saritoprak makes clear the reality of pluralism in the history of Islamic religious scholarship. Actively engaged in efforts to promote interfaith dialogue and harmony, Saritoprak thoughtfully argues that the shared belief in Jesus presents an excellent opportunity for understanding between Muslims and Christians. Together, they constitute more than half of the world's population, and such understanding may be a foundation for peace.