EVENT HIGHLIGHTS
Human Rights Violations and the Struggle of the Crimean Tatars under Russian Occupation
"The Struggle of the Crimean Tatars under Russian Occupation: A forum on human rights violations in the Ukrainian Region of Crimea."
February 27, 2014 marked the beginning of the Russian invasion of Crimea which culminated in the internationally condemned annexation of the peninsula by the Russian Federation three weeks later. In this past year, the Crimean Tatars–the indigenous Turkic Muslim people of Crimea–have faced escalating human rights abuses ranging from intimidation to murder and violations of their basic rights of self-governance, citizenship and freedom of speech.
​
These events have gone mostly unnoticed by the world. Our forum will help raise awareness of what is happening in Crimea and put a human face on the increasingly tragic human rights abuses of the Crimean Tatar people. Excerpts from the Turkish produced documentary, Son of Crimea: Struggle of a People, will provide a historical background of the Crimean Tatar people–their mass deportation in 1944 and the struggle to return to their homeland; and the legendary leader of that national movement, Mustafa Jemilev.
Date:
Tuesday, April 21 2015
5:30PM-7:30PM
Venue:
Cowles Auditorium, Humphrey School of Public Affairs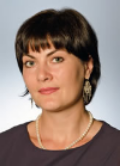 Lilia Muslimovaa Crimean Tatar from Simferopol, Crimea, serves as an assistant and spokesperson for Mustafa Jemilev and was in Crimea during the Russian invasion. Currently a Fulbright Fellow at the Humphrey School of Public Affairs, Lilia will speak firsthand about the abuses towards her people.



Distinguished professor J. Brian Atwood from the Humphrey School of Public Affairs will moderate a community discussion on the issues of Crimea and Ukraine and how American citizens can provide support for the Crimean Tatar people.



Barbara Wieser, a Minnesota resident who served in the Peace Corps in Crimea for over four years, will give her impressions of the Crimean Tatar people she lived and worked with.

This event has been awarded by the University of Minnesota Student Activities the Coca Cola Grant.
Contact email: [email protected]
"Free and open to the public"
---