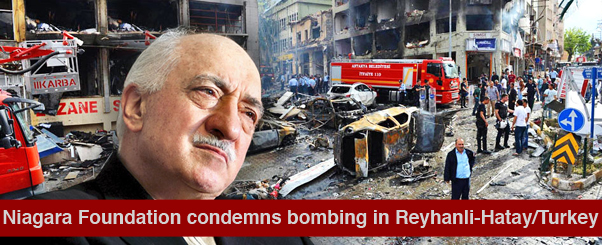 The Niagara Foundation strongly condemns the car bombing in Reyhanli-Hatay/Turkey which killed 49 innocent people and injured several others.
We are deeply saddened by this mindless and brutal attack.
We offer our sincere condolences for the victims of the Reyhanlı blasts and we offer healing prayers to those injured.
Niagara Foundation's Honorary President Fethullah Gulen said the attack, which targeted Hatay, a symbol of a culture of peaceful coexistence, had unleashed a great sorrow. He said people will respond, while preserving common sense, to those who have targeted the moves that aim to restore social peace and brotherhood in Turkey.
FOR IMMEDIATE RELEASE AND DISTRIBUTION
The Niagara Foundation strongly condemns the car bombing that killed more than 50 people and wounded nearly 100 others in Reyhanli, a Turkish town bordering Syria on May 11.
We are repulsed by this heinous act of terrorism and lament the loss of innocent life. Turkey is a key U.S. ally in the Middle East, and the Niagara Foundation regularly sends members of our community to Turkey to witness the country's diverse culture and to foster mutual respect abroad. We are deeply saddened by this atrocity, particularly in a country where we have many close ties.
As an organization whose mission is to promote peace, respect, and dialogue in the world, we feel it is our duty to publicly condemn hateful catastrophes like these, so we may continue persevering toward our ultimate goal: a peaceful international community.
The explosions came days before Turkish Prime Minister Recep Tayyip Erdogan's visit to the U.S. for talks with President Barack Obama.
"I place a lot of significance on this visit in terms of peace in the Middle East," Erdogan said at a press conference yesterday.
We hope that continued dialogue between countries and cultures will ignite an international conversation toward peace and mutual understanding.