EVENT HIGHLIGHTS
Niagara Foundation invites you to first of its Community "Dinner & Dialogue" series in an effort to create a Mt.Prospect-based platform for Christian Muslim Dialogue. These dinners hosted by the Turkish American Muslim community will create platforms where the attendees will get a chance to talk about common issues and dismantle stereotypes. Further, it will offer ways for these groups to work together to make their neighborhoods a better place.
This is a complimentary and open-to-public event for Mt. Prospect, Des Plaines, and Arlington Heights residents.
If you have difficulties registering for this event, please CONTACT Rana Yurtsever via email at [email protected].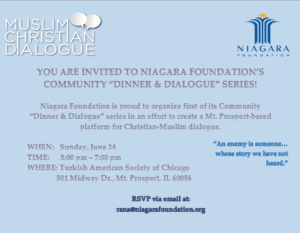 Date:
Date TBA
Venue
Turkish American Society of Chicago
501 Midway Dr., Mt. Prospect, IL 60056