On February 23, the Niagara Foundation had the pleasure of hosting PJ Cannon, Jr. for a Friends in Faith event on Rastafari beliefs and practices. Cannon is a Chicago native who was born into a working-class Christian family who became a Rastafari after interacting with the indigenous people in Jamaica and participating in drum circles and other gatherings.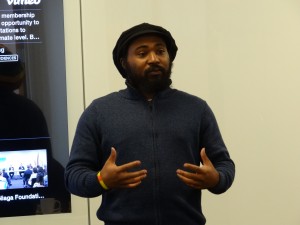 PJ Cannon began his speech talking about the origins of Rastafari. He explained how Rastafari it's a movement that originated in Jamaica as a response to a colonial subjugation and dehumanization of certain people on Earth." The main Rastafari main belief is that humans should become more harmonized with all creations such as flora and fauna, and making things in a more progressive, peaceful, balanced and just way.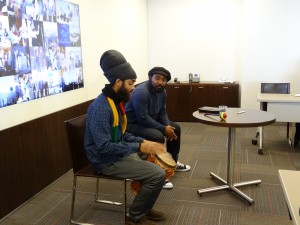 Cannon explained to us how Marcus Garvey, a black political leader, inspired the Rastafari movement. Born in Jamaica, Marcus Garvey became a leader in the black community through the Universal Negro Improvement Association (UNIA). There he inspired African Americans to be proud of their race and to unify their community in their land of origin, Ethiopia. He inspired a global mass movement known as Garveyism. Rastafarians see Emperor Haile Selassie I, from Ethiopia, as a fulfillment of Garvey's prophecy.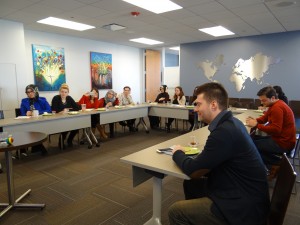 PJ Cannon read a couple of quotes from the book "Mind of Emperor Haile Selassie I," A pocket sized collection of quotations by the former leader of Ethiopia that Rastafaris refer to as "His Imperial Majesty". PJ emphasize how this guide helps them have wisdom in their lives as well as a peaceful mind. PJ said, "Rastafari has the obligation to make good. Doing good in every environment you can." Rastafari is about bringing light to everybody's mind and heart.
Learning the history, and understanding the mindset of the Rastafari community helps erase all the misperception of the culture. PJ made us laugh about how society believes that being a Rastafari is all about cannabis, dreadlocks, reggae music, and Bob Marley. Rastafari it's about building and constructing a loving community that creates good. PJ said, "Rastafari is one love, one perfect love," meaning humans are designed to love each other.
PJ became more involved in the Rastafari culture through his travels to Jamaica. Through his experiences, he saw Rastafari did not have a true voice. He was motivated to build an avenue of real voices, from people who wanted to say something about Rastafari. He decided to create RASTA Radio, a radio station for "Jah people", to hear reggae music, and talk about the positive emotions and the truth about Rastafari. RASTA Radio has helped him embrace the Rastafari culture.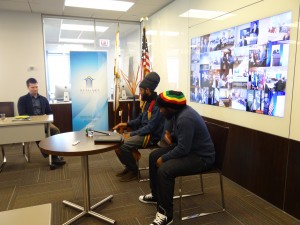 After his speech, we were able to have a quick Q&A session. In that session, we learned one of the reasons of to why Rastafari does not cut their dreadlocks. In 1930, growing dreadlocks was a crime: those walking on the streets with dreadlocks would be punished, arrested, or persecuted. Today, PJ uses his dreadlock as a symbol of freedom. PJ also taught us that Rastafari does not have a temple where they meditate, but it's their responsibility to meditate by themselves. PJ said, "There is no greater temple than yourself."
Niagara Foundation Friends in Faith wants to thank PJ Cannon, for giving us a great journey into the history of Rastafari, and teaching us about their values and traditions.