On January 21, the Niagara Foundation had the pleasure of hosting Jeff McCarter. He is Founder & Executive Director of Free Spirit Media. Jeff leads an informative Chicago & Global Family event on the issues of the lack of diversity in the mainstream media. We were very impressed by all the success stories Jeff shared with us. Free Spirit Media provides education, access, and opportunity in media production to underserved urban youth voices to transform media and society.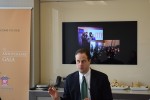 Jeff began by showing a documentary called "A Tale of Two Cities" created by young adult filmmakers from Chicago. This documentary demonstrated Lawndale, a neighborhood in Chicago, as a peaceful area during daytime while a man and a woman talked about how mainstream media coverage showed a side of the city the do not see in their daily life.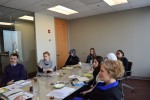 After the powerful documentary, we learn more about Free Spirit Media's mission and programs. Their mission is to cultivate diverse of voices to transform media and society. Jeff explained how media is such a powerful tool to influence society. However, most media is not produced by a diverse population, which can make broadcast media biased. Free Spirit Media wants to transform the future of media by changing who is making it, who is producing it, and who is watching it. This way, participants will become informed and engaged leaders that create an immediate and lasting impact in their communities.
Free Spirit Media works using a model that involves in-school classes to provide students with school credits, and after-school programs such as media arts and journalism. It is important to mention that most of their programs are project-based, which allows participants to learn in a didactic environment. The model also offers youth development, civic engagement, and college career development. In an effort to promote civic engagement, they sent a crew to Iowa to do a cover of the political campaign and partnership with Mikva Challenge.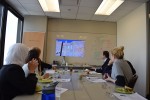 This model of education helps create pathways for young people to understand more about stepping into college or a career path. Free Spirit Media creates a safe space where young people can develop a strong sense of self, a connection with mentors, and the ability to feel safe and ready to take the next step to develop strong skills. Free Spirit Media's long-term impact is to help participants to become productive, independent, and engaged adults. The communities they serve are the most under-resourced communities; with high unemployment, crime, and poverty rates.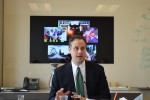 With this in mind, Free Spirit Media believes that media from young people can change communities and decision making. Jeff talked about a success story in the Chicago public transportation services. One of the CTA lines did not run on nights and weekends. Free Spirit Media and its young crew decided to create a film that showed how this situation left the neighborhood stranded. People couldn't get to work and they were disconnected from the rest of the community. The film helped restored night-weekend services, this line is now the CTA Pink Line.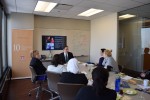 Free Spirit Media has helped young people to travel to places such as; Spain, Scotland, Germany, Thailand, Nicaragua and Myanmar to have transformational experiences and build creative, and professional skills. Jeff taught us about "Peace Builders" project where five young Chicagoans traveled to Thailand and Myanmar (Burma) in the winter of 2013-2014. Hosted by the local community and peace leaders, they continued their studies on how cultural, spiritual and social factors contributes to their peace or violence. This peace exchange was broadcast by WTTW Chicago with over 15,000 views. Jeff has worked also on films directed by Steven Soderbergh and Ron Howard, on ABC News, and PBS.
It was great to hear how Free Spirit Media has been able to empower underserved communities through young and diverse voices in mainstream media. Niagara Foundation would like to thank Jeff McCarter for being part of Chicago & Global Friends forum.
Jimena Talamantes Legorreta, Communications Intern
January 26, 2015