On October 14th, Niagara Foundation was pleased to host Arshia Ali-Khan, Director of Business Development & Marketing for the UMMA Center. The UMMA Center opened their doors in 2004 and are one of the few education facilities in the Lake County area. They serve some of the poorest and most vulnerable cities in Illinois, focusing on the Waukegan, Zion, and North Chicago areas. Arshia was a warm, passionate, and honest speaker. The most interesting topics she discussed were the realities of poverty in the Lake County area, the reason for rebranding UMMA, and UMMA's mission.
The Realities of Poverty
UMMA began as an education facility, but discovered shortly after opening, there were more services the community desperately need. While teaching at one of UMMA's education courses, the UMMA staff noticed their students' stomachs were growling. When asked the last time they had a meal the children said they hadn't eaten for days. You can't learn if you aren't eating.
As a native of the Toronto suburbs these realities came as a shock to Arshia. The gap between the rich and the poor had never been this visible to her. "I had never heard of gangs, I'd never heard of children with tattoos on the backs and their legs, i had never seen children with blackened teeth." This culture shock was the cause of anxiety in her life and it took her awhile to regain her footing.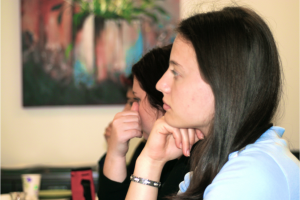 The Reason for Rebranding
A lot of people think UMMA, which was once called the Urban Muslim Minority Alliance, is an organization in place to specifically help muslims. Aside from the full name being a mouthful, it was also hindering their fundraising via grants. "When dealing with the climate after 9/11 and you're dealing with a hijabi and you're dealing with funding and perception, all of these things do have a huge impact."
There was one controversy pertaining to funding that stood out in her memory. The Urban Muslim Minority Alliance was denied a grant they applied for. Arshia was sure that everything was filled out properly and something didn't seem quite right, so she reached out to the grant funder and asked them why they were turned down. The funder said, "We don't serve any MSAs (Muslim Student Associations) and we don't serve anyone with any religious association."
Arshia explained that Urban Muslim Minority Alliance was a community center in place to help individuals of every race, ethnicity, and religion who seek education as a way to improve their lives. Arshia asked if they'd ever given a grant to any Catholic or Christian charities and the grant funder said "no, that's not something we do." Arshia was determined to get to the bottom of this dilemma and after researching the funder, found out that they indeed had given money to Christian charities and Jewish Vocational Services.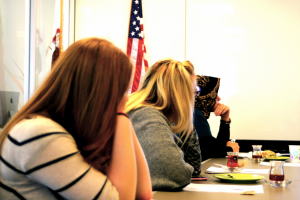 Their Mission
UMMA grapples with some of the highest poverty rates in Illinois and there are very few options for gainful employment and education in Lake County. Their vision is to bridge the staggering socio-economic gap in Lake County by using education, career development, and outreach programs to empower residents and help them meet their most basic human needs. That's a big gap to fill especially when Arshia says UMMA isn't where they want to be in terms of funding.
She's encountered a lot of people offering money if UMMA serves the muslim population exclusively as well as people attempting to push UMMA into a more secular organization, but she's not having any of it. "We are serving people in poverty. We don't care where you come from, we don't care what color you are or what you look like. This is who we are and this is what we do. Take it or leave it."
By Brandon Bordenkircher
Communications Intern